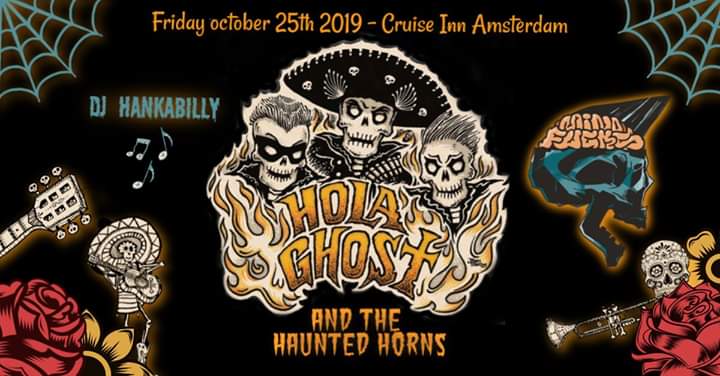 Hola Ghost & The Haunted Horns / MindFucks
Cruise Inn
21:00 - 03:00
---
The living have more fun so let's celebrate the Day of the Dead! Calling all creeps, ghouls, freaks to come down to the Cruise Inn for this special night!

Live on stage: Hola Ghost and the Haunted Horns.
This five piece band will make you feel you arrived on the set of the movie From dusk till Dawn. With their own distinct style they are appearing live with bandanas, bullet belts, sombreros and painted day of the death-masks, they fearlessly mix genres to create their own dark Scandinavian mariachi rock sound, inspired by surf music, Mexican folklore, dark disco, psychobilly, B-western movies and what else is out there worth listening to. The "Copenhagen gringos" present a high energy performance on albums as well as live on stage.

Hola Ghost are:
Hola Peter - Peter Sandorff (Ex. Nekromantix / Mad sin / Dead kings) – Guitar /vox
Jeppe BJ – Bass / Back vox
Ghost Brother - Kristian Sandorff (Ex. Nekromantix) – Drums / Percussion / Back vox

Support: MindFucks
For the very first time live on stage we proudly present these newborn dutch psychobilly band: MindFucks
Doctors were unable to help them with their brain error so they teamed up to proceed their sick thoughts. Their raw and murderous sound cuts you deep in your skull leaving you with a concussion!
Show them your support by not being scared of braindamage, raaaawwwk!

MindFucks are:
Mike - Vocals
Dido - Guitar
Jesse - Drums
Kobus - Double bass
Spinning the spooky tunes, DJ Hankabilly is ready to get you in the mood to lose your head and dance like a zombie!

Doors open: 21:00
First band starting: 21:30
Entrance: Members of the cruise inn 10,- euro, non members 15,- euro
Parking: The Cruise Inn has some free parking spots on its own parkinglot, but this can be full fast. No worries, Parking 'Zeeburg" is a 4 minute walk away from the Cruise Inn, and they have a lot of space. we advise you not to park on the street in front of the Cruise Inn, cause you are bound to get a ticket then.

The Cruise Inn is located near the highway, so don't be afraid, you won't see the centre of Amsterdam ;) Seriously, look it up on Google Maps, this hidden gem is perfectly reachable!

Public transport: take tram 26 from Amsterdam central station, and exit at parking Zeeburg.

Place to crash: 1 km walk from the Cruise Inn there is an lovely camping site with cabins and places to camp in your own tent or hearse. Look up camping Zeeburg if you feel like sleeping over and crawl back to your nest later.

The Cruise Inn is an rock n roll bar that is around for almost 37 years now, and is complelty runed by volunteers ever since day 1. Walk trough our wooden doors, and get yourself in the good old rock n roll spirit and share the craziest, wildest and freakiest night with everyone together!

See you the 25th!
Terug