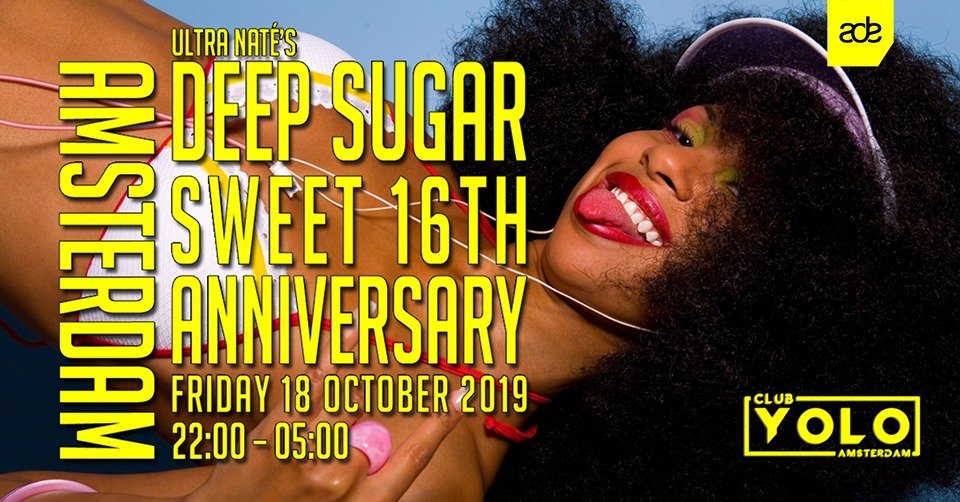 Deep Sugar Sweet 16 Anniversary
Club Yolo
22:00 - 05:00
---

Keep on dancing and keep it underground!
International Dance Music Icon Ultra Nate' once again brings Deep Sugar party to ADE (Amsterdam Dance Event)!

The "Sweet 16" Anniversary Tour - with dates in Baltimore (9/14), New York (10/5), Miami (12/7), SanFrancisco (11/9), Seattle (11/10), Washington DC (11/30) and of course AMSTERDAM (10/18)!!

Getting back to basics made this event a favorite at ADE2018! ULTRA NATE' has churned out hit after hit for over two decades as a singer/songwriter and has been rocking decks around the globe as a DJ for the last 16 years with the creation of Deep Sugar. This year her partner in crime and fellow Baltimore house music diva LISA MOODY continues along with her an seminal producer/DJ QUENTIN HARRIS reppin' New York & Detroit.

It wouldn't be the same without a little AMS flavor - featuring MAYDAY with a warm up set and Queen hostess duties alongside "House Music Royalty" INAYA DAY, DARRYL D'BONNEAU & JASON WALKER. Our hosts certainly bring the most!!
And we're bringing it to Club Yolo - Amsterdam!!
Terug