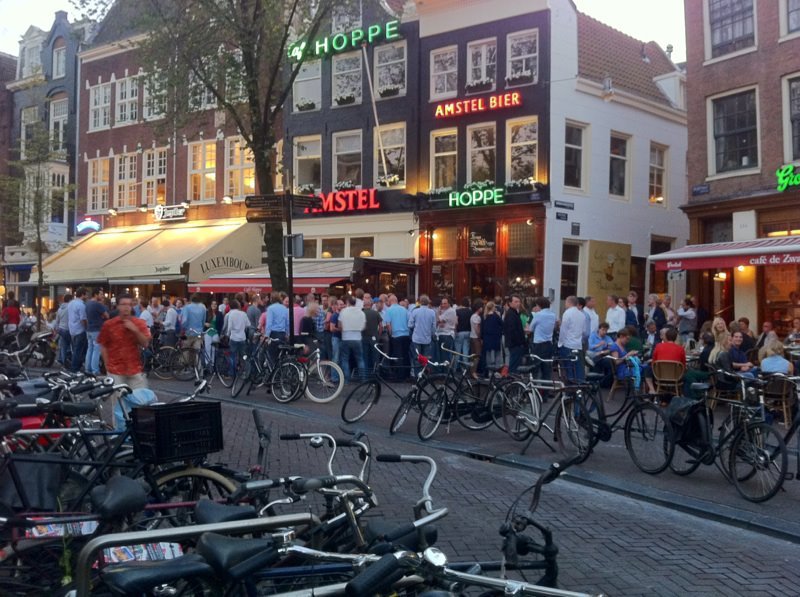 Café Hoppe
(5.0/9)
Spui 18-20
1012 XA Amsterdam
Café
---
Café Hoppe has been located on the Spui since 1670. Hans van Mierlo laid the foundations for the liberal D'66 party here, and even our recently abdicated Queen Beatrix honoured us with a royal visit whilst still a young princess.
True, she did this with the Salvation Army's legendary Major Boszhart on a fund-raising mission,but nevertheless she came! Brewing magnate Freddy Heineken could also be found enjoying a drink here. That's enough history,let's get to the present day.Café Hoppe has something unique,something indescribable, that speaks to the imagination of many-young and old-who come and come back again. Come along for a drink on a Friday afternoon and you'll see what we mean. You would have to search far and wide to come across a more diverse group of people. One thing they do have in common though-a great affection for Café Hoppe.

Cafés in Amsterdam: Café Hoppe, Spui 18-20, 1012 XA Amsterdam - Evenementen, uitladder, uitgids, uittips, uitgaan, cafés, restaurants van Amsterdam.
Uitagenda van Café Hoppe