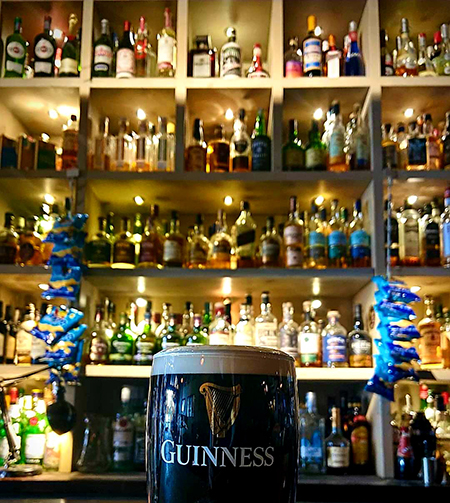 Tierney's Irish Pub & Restaurant
(5.0/2)
Spekstraat 8
2011 HM Haarlem
Café
---
In het pittoreske Haarlem, verscholen tussen de geplaveide straatjes, straalt Tierney's Irish Pub & Restaurant als een warme oase van Ierse gastvrijheid. Zodra je de karakteristieke houten deuren opent, word je verwelkomd door de levendige klanken van traditionele Ierse muziek en een gezellige sfeer die je meteen thuis doet voelen.
Het interieur ademt een authentieke Ierse charme uit, met donkerbruine houten balken en gezellige hoekjes waar je jezelf kunt nestelen. Overal vind je subtiele knipogen naar Ierse cultuur en geschiedenis, van de oude Guinness-reclameborden aan de muren tot de klavertjes vier die geluk brengen.
De geur van smakelijke Ierse gerechten vult de lucht, met heerlijke stoverijen, stevige Shepherd's Pie en verrukkelijke visgerechten die je doen watertanden. En natuurlijk ontbreekt ook het vloeibare goud niet: een uitgebreide selectie van Ierse bieren en whisky's staat klaar om je smaakpapillen te verwennen.
Maar het echte hart van Tierney's zijn de mensen die er samenkomen. Het is een ontmoetingsplaats voor locals en internationale bezoekers, waar verhalen worden gedeeld, lachen klinkt en vriendschappen worden gesmeed. Het barpersoneel straalt een oprechte vriendelijkheid uit en neemt de tijd om je favoriete drankje in te schenken terwijl ze je graag vertellen over de geschiedenis van de pub.
Of je nu wilt genieten van een gezellige avond met vrienden, op zoek bent naar een levendige plek om te dansen op de opzwepende muziek, of gewoon wilt ontspannen met een goed glas whisky bij het knapperende haardvuur - Tierney's Irish Pub & Restaurant is de plek waar je wilt zijn. Een stukje Ierland in het hart van Haarlem, dat je ziel verwarmt en je met een glimlach achterlaat.

Uitagenda van Haarlem: Tierney's Irish Pub & Restaurant, Spekstraat 8, 2011 HM Haarlem - Evenementen, hotels, cafés, restaurants, musea, theaters en uitgaanstips van Haarlem.
Uitagenda van Tierney's Irish Pub & Restaurant