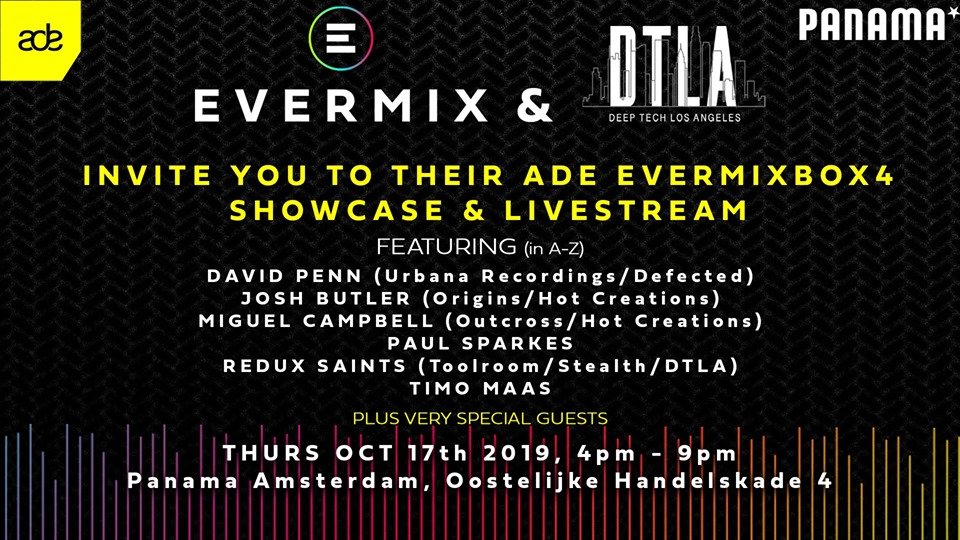 Product Showcase & Livestream
Panama
16:00 - 21:00
---
Evermix ADE Showcase in collaboration with Deep Tech Los Angeles Records:

Featuring an A-list line up of Evermix's favourite DJs, putting the newly launched EvermixBox4 through its paces.

Our first ADE event gives guests the opportunity to experience our highly anticipated DJ recorder and live-streaming solution. Join the Evermix Team for drinks and demo's, with the evenings soundtrack mixed live by some of the industry's most talented artists!

Evermix have proudly teamed up with record label Deep Tech Los Angeles Records, headed by Redux Saints, DTLA's head honcho and long time Evermix ambassador.

Join us on the Eastern Docklands of Amsterdam at the famous Panama Club, Thursday 17th October 4pm-9pm.

This is a free event with entry on a first come basis, please click attending on our Facebook event page and we'll add you to the guest-list.

We look forward to seeing you there!
Terug